Loading LUTs in Photoshop
Add a Color Lookup adjustment layer
From the Adjustments panel (Window > Adjustments), add a Color Lookup adjustment layer.
Load a LUT
Click on the Load 3D LUT… dropdown menu then choose Load 3D LUT. Navigate to the product folder. Load a LUT from the LUTs\CUBE folder.
Make the LUT lighter or stronger
To change the opacity, adjust the opacity setting in the Layers panel.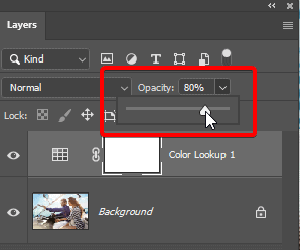 Need more help? Our friendly support team is at your service.